When to throw out or replace your bed sheets & pillow covers
Pillow covers and pillows should be replaced every one to two years. This is because they're regularly exposed to body secretions like sweat, spit, dead skin cells and even hair oils. These secretions create an ideal environment for dust mites that can aggravate someone with dust allergies.
Old pillows can sometimes give off an odour after constant use. Regular washing and dry cleaning is a must; however, over time, these secretions can stain pillows and pillow covers. There's nothing pretty about an old, yellowing pillow cover or pillow. That's when you know it's time to replace them.
Another critical factor for a pillow is its loss of shape and ability to support your head and neck. If your pillow no longer offers the right support it can cause all sorts of aches, pains and long term effects. In this case, it's a definite sign that it's time to replace it and buy high-quality memory foam pillows.
When to Replace A Mattress?
Although many manufacturers will say their mattresses will last over 15-20 years, the rule of thumb is to replace them every ten years. Yes, even really expensive mattresses need to be replaced!
Similar to pillows, the primary function of a mattress is to support your body and offer optimal comfort. If the springs start to hurt and the foam is lumpy, it's time to replace your beloved mattress and get a new one that will help you get a good night's sleep.
It's also vital to get your mattress professionally steam cleaned every six months, even if you have a mattress protector that you wash regularly. Dust mites, bed bugs and body secretions can get into the fibres of the mattress and cause it to degrade and be unhygienic. If your mattress is over ten years old and hasn't been professionally cleaned for over two years – it's time for it to be replaced! When to Buy New Comforters and Duvets?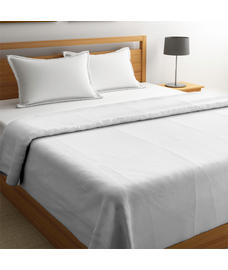 High-quality comforters and duvets can be replaced after 15-20 years. Finally, some good news! If cared for properly with regular wash cycles and airing, comforters and duvets will last you a long time. We suggest getting comforters or duvets professional dry cleaned once a month and use a duvet cover that can be washed weekly. Comforters and duvets don't support the body like pillows or mattresses, and they aren't used as regularly as bedsheets – especially in warmer climates – therefore, they last much longer. However, when your comforter has lost its shape, and the filler starts to dissolve and degrade, then it's time to replace it.
We don't know about you, but all this talk about replacing bedding has got us in the mood for some retail therapy! Head to Portico today to find a range of gorgeous bed sheets and comforter sets that you'll want to buy even if your bedding doesn't require replacement – Happy shopping!
Till next time,
Chase your #DreamGoals!