Complete Travel Guide to Char Dham Yatra of Uttarakhand with Frequently Asked Questions
Pilgrimages in India are a major part of the Hindu belief system. People and devotes from different parts of the globe go on this soulful journey on the Garhwal hills of Uttarakhand braving the unpredictable weather conditions and unexpected hassles. The prime motive of this journey is for one to achieve the ultimate liberation or moksha.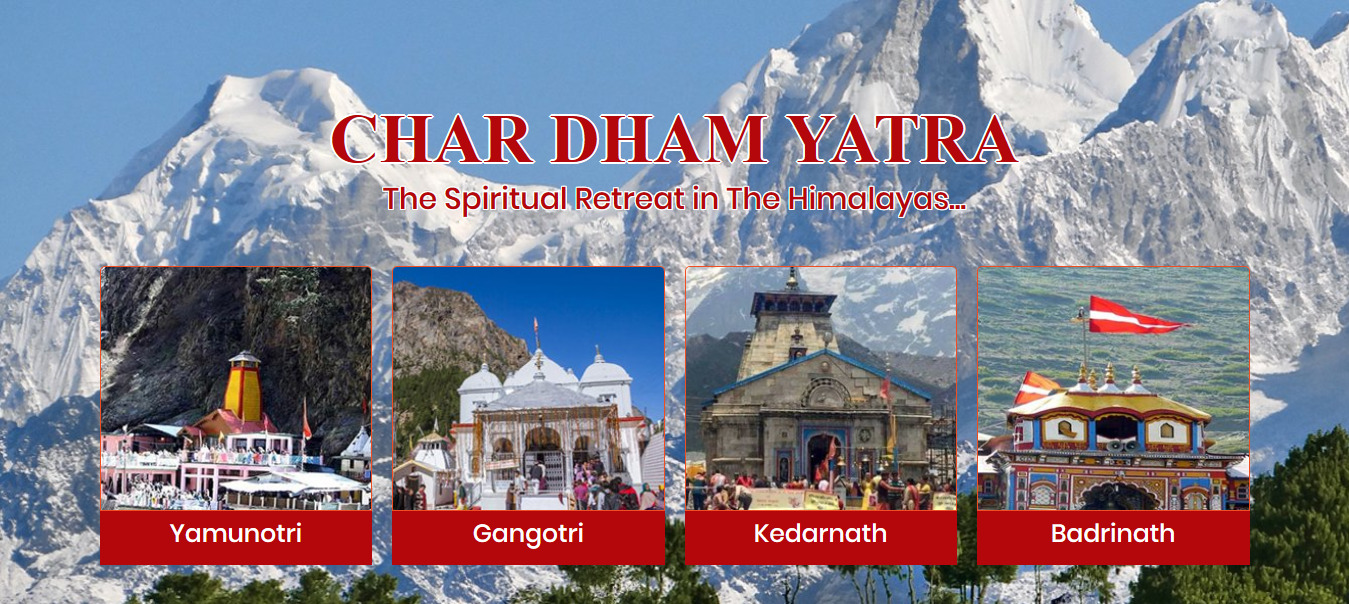 However, not everything is as easy going as it seems. Traversing through the jagged Himalayan terrain and facing the harsh climatic conditions and sometimes even sudden weather changes is a part and test of every pilgrim's journey. Making your way to the ancient temples of Kedarnath, Badrinath, Gangotri, and Yamunotri is not an easy task. By following the tips, tricks, and guide as given below will eliminate any risk factor and will further enable you to have the pilgrimage of your dreams.
Decide When To Visit
This point is to be kept in mind not only while going on Char Dham pilgrimage but anywhere in general. You do not want to be caught in torrential rains, unexpected flooding situations or some life-threatening problems. Remember that the climatic conditions on the hills are extremely different from the conditions as experienced on the plains. For Char Dham Yatra of Uttarakhand, the best time to travel by road or flight is during the summer months that range from May to early July. This has proven to be by far the safest and the most pleasant time for one to travel and even incorporate a few days of nearby sightseeing around Char Dham temples.
Note: Do not travel on the hills during the monsoon season under any cost.
Char Dham Yatra By Helicopter
If you have a limited duration of holidays or if you will be going to Char Dham Yatra with senior citizens or children and wish to limit the exertion caused due to the journey then opting for travelling by helicopter is the best way to go. It guarantees comfort, beautiful scenic views, and quick VIP Darshan. Although a bit expensive, this way of transportation for the pilgrimage is by far the most convenient means of going for the Yatra. Remember to travel light, only carry essentials and choose a time to travel when the skies are clear. The helicopter company reserves the right to cancel, delay or reschedule any flight according to their situation.
Must Carry Essentials
You have to remind yourself time and again that the temples are located on the higher reaches of Himalayas so do not overpack or carry any item that you will definitely not be using. Be realistic in your approach. Carry a good pair of walking shoes, trekking stick if you are opting to go there by walking and comfortable clothing items that makes walking easier. Other essentials include – a medical first aid kit with bandages, pain killers and relievers, anti-fever medication, etc. remember to always keep sunscreen and energy power bars with you at all times to keep you safe from the direct and harsh sun rays beating down on you.
Char Dham Yatra By Road Brief Itinerary
A typical Char Dham Yatra by road takes around 9-10 days to cover. Here is a brief and general itinerary for Char Dham that you can follow and modify it further according to your preferences:
Day 01: Rishikesh – Barkot
Day 02: Barkot – Yamunotri (Darshan)
Day 03: Yamunotri – Gangotri
Day 04: Gangotri (Darshan) – Uttarkashi
Day 05: Uttarkashi – Sitapur
Day 06: Sitapur – Kedarnath (Darshan)
Day 07: Kedarnath – Sitapur
Day 08: Sitapur – Rudraprayag
Day 09: Rudraprayag – Badrinath (Darshan)
Day 10: Badrinath – Departure
You may refer to this itinerary plan if you are planning on a visit to Char Dham Yatra.
How To Choose The Right Mode Of Transportation
The roads connecting the Char Dham temples are in very good condition thanks to the government of Uttarakhand. You can choose from a range of different modes of transportation ranging from flight, roadways, and railways. You can choose the right option for yourself depending on the people you are travelling with, their age and of course the budget. It is advisable for you to speak to a travel manager before making a solid decision and clarifying all your doubts. Transportation like buses and trains are pocket-friendly options but take a lot of time to complete the journey.
Clothing Tips
As you know that the Char Dham temples are located in the high altitude regions of Himalayas, remember to pack all the good quality of warm clothing items. These will include items like jackets, sweaters, mufflers, thermal inners, and warm socks. Even if you are travelling during the summer season at night, the weather becomes extremely cold and chilly. Remember to be prepared duly for that. Do not take the weather on the hills lightly.
Frequently Asked Questions
Is There An Age Limit For Char Dham Yatra?
There is no age limit for this holy pilgrimage Yatra. However, children below the age of 7 years old and above 75 years old are recommended not to go on this trip as the elevation is high and the routes are very physically exerting which may prove to be a hassle for senior citizens and children of that age group.
Is Char Dham Yatra Worth It?
Yes. Char Dham Yatra of Uttarakhand is one experience that everyone should have in a lifetime. Travelling through the temples of Kedarnath, Badrinath, Gangotri, and Yamunotri will be one of the most refreshing journeys and potentially a life-changing experience for many even if you are not a religious individual. Go there for the scenic views and untainted sense of pure spirituality.
What Is The Accommodation Like?
This is one of the most common and important questions that most of our clients ask. We would like to clarify beforehand that the travelers must not expect the same kind of services, amenities, and luxuries as the hotels in the plains. These accommodation facilities that falls en route the Char Dham route remain open only for a limited duration of 6 months. The rest of the time these hotels are shut down for service. If you stay at a hotel then be ready to stay in sub-par conditions no matter how much you pay with only the basic amenities available. Be ready to adjust and not make a fuss.
How Can I Book A Pony Service In Yamunotri?
There are numerous pony wallahs and other such alternative modes of getting to the ancient temple. You will not be required to walk in these methods. There are registered pony service wallahs and Pitthu wallahs available in the region of Janki Chatti which is the starting of the trekking route to Yamunotri and that too at reasonable rates.