Top Ranked Attractions in the City of Gold – Dubai
Dubai is a city of skyscrapers, ports and astonishing beaches. It is the most populous city of the United Arab Emirates. The ultra-modern architecture of Dubai is well known, all over the world. Dubai is famous for its sightseeing and luxury shopping malls. The city has transformed itself from a desert outpost to a fancy holiday hotspot. Every year, thousands of tourists flock here to witness the extravagant life in the city of dreams.  Here are the top attractions of Dubai that will compel you to plan your vacations in the city of dreams:
Desert Safari in Dubai
Any list of Dubai attractions will be incomplete without desert safari. It is a one-of-its-kind journey that gives visitors an exceptional experience.
Desert safari Dubai starts off with picking up guests from their hotels/accommodations or pre-decided spots in the city, depending on their package. They are taken to the campsite where a plethora of activities are arranged for them, including sandboarding, dune bashing, quad biking, camel riding etc.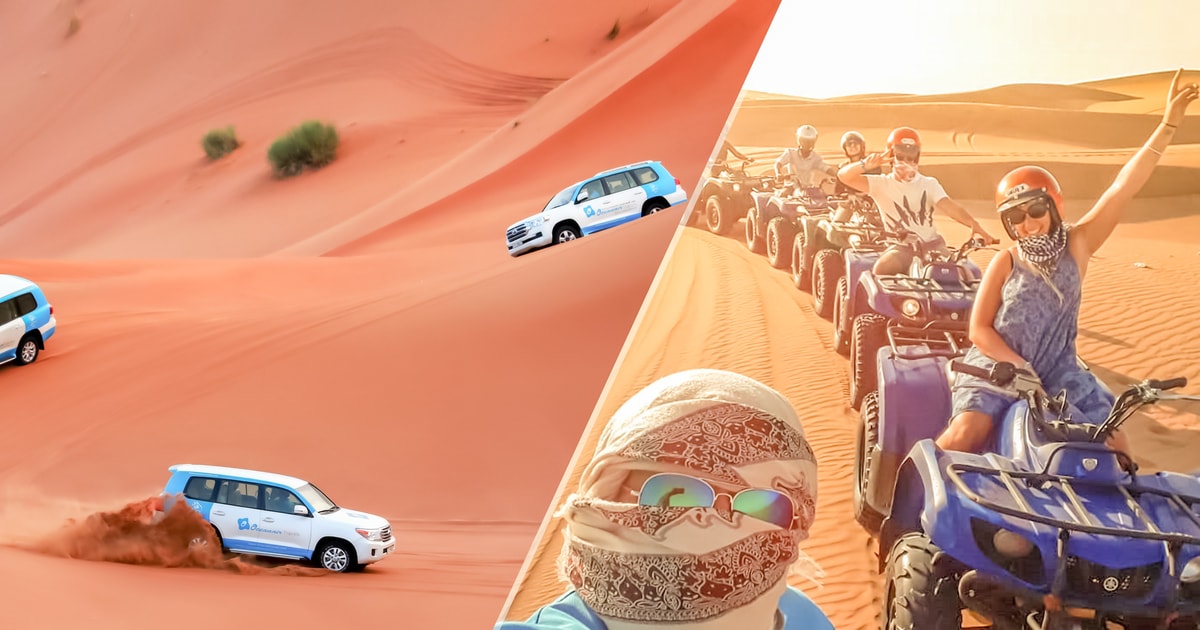 Apart from these activities, the sunset views and lavish BBQ dinner are special features of this safari. 
Burj Khalifa
The landmark building and the primary tourist attraction in Dubai is the world's tallest building, Burj Khalifa. The view from the observation deck at 124th floor is a mesmerising sight which cannot be overseen. The staggering bird's eye perspective across the city skyline holds a spellbound in itself. The night time view from the observation deck is popular among photographers because of the city light panoramas of Dubai. 
Back on the ground, Burj Khalifa is surrounded by splendid gardens and dwindling walkways. Dubai fountain is also located here which is known as the world's tallest performing fountain. 
Dubai Mall
Dubai mall is famous for its luxury shopping scene. It is the most premium mall of Dubai which accommodates indulgent shopping and a lot of other indoor activities. 
Dubai mall also offers entertainment options such as ice-skating rink, gaming zone, cinema complex, 3d rides and much more. The mall has reservations of live music and fashion shows almost every week so you're advised to spend a weekend here. The most famous festivals held in Dubai mall are Dubai Shopping festival and Dubai Summer Surprises.
Dubai Museum 
If you're eager to learn how a barren desert turned into the city of dreams, visiting Dubai museum should be on top of your vacation list. It is located in Al-Fahidi fort,  which was built in 1787 to defend creeks. 
The courtyard of this museum is decorated with palm-leafs which reciprocate the house structures of Emirati life in old times. Antique weaponry and musical instruments from the past time are preserved here to showcase the transformation of a destitute desert to one of the world's best tourist locations. 
The basement of this museum houses three to four thousand years old graves. 
Dubai Aquarium
Dubai aquarium is one of the top attractions of this city. It houses more than 140 species of seal life in a suspended water tank, which is located on the ground floor of the Dubai mall. 
Aquarium tunnels are designed to have a closer look at this underwater zoo. Activities like cage snorkelling, shark diving and glass bottom boat tours are offered to witness the sea world. 
Jumeirah Beach
Jumeirah is the number one beach destination in terms of luxury and frills. The roadside of this beach is covered with hotels which provide an exclusive view of the sandy white bliss. 
This beach is equipped with plenty of facilities like sun lounges, restaurants, bars, jet skiing, aqua jogging and water aerobics. 
For easy access to all the top ranked attractions of Dubai, the best place to stay is at Dubai Downtown. Vacation in Dubai will leave the traces of these flashy ventures in your memory for the rest of your life.