Advanced Layered Navigation for Magento 2 — Extension Overview
One of the vital elements for success is your store's usability because it has a direct influence on customer satisfaction and, as a result, on revenue. To ensure the best user experience, the site has to be convenient and operate fast. Will you like a store with complicated navigation, slow loading speed, and ugly design? Everything should look nice and neat, as well as operate smoothly. For this purpose, there is a special module for Magento 2 that can handle all the problems and help you reach your goals.
This extension gives you precise control over the layered navigation-related features. The AJAX technology used in this module ensures faster loading and more convenient and optimized product filter use. In addition to this, it adds some new filters, such as stock status, which facilitates the work of online stores. In the combination with customizable visual design, these features create a great module for eCommerce purposes.
For even better convenience for all your customers, you are able to create new pages for your catalog. This helps organize product catalog and improve usability. However, let's not waste too much time and move to the full list of features!
Features
The advantages
Let's take a closer look at how this module affects the productivity of your business:
Sales. Improving the most essential parts of your store makes customers fall in love with your site, which leads to increasing the conversion rate.
Landing Pages. People often look for something particular. For example, a certain brand. This is where you have to create separate pages! People will see only things they need in the search results.
Improved functionality
With plenty of new filters, it's much easier now to find the necessary products. The extension makes filters even simpler to use. It offers to customers filters that are commonly used for a category, enables multi-filter search, and allows you to attach images to the filter you want.
What are the new filters we were talking about? This add-on lets shoppers filter products by new ones, those that are on sale at the moment, according to the product rating, and by stock. Furthermore, you can choose the applying mode.
As we already said, the extension uses an innovative technology that is much faster, compared to the default Magento. The secret is in filtering products without refreshing pages. In addition to this, you can set the way your pages will be displayed. It means that you can choose either your customers should manually switch the page or they can continue scrolling with no switching. In the second case, new pages will be loaded automatically.
And it's also necessary to mention customizable designs. Don't underrate the role of visual content on your website. Make layered navigation fit the main look. Choose how filters will be displayed: in the horizontal mode or in a vertical mode, choose the location of the reset filters button, change colors and any other settings related to visual content.
Enhanced Filter System
There are several aspects that make the system better:
Smart Navigation. The Magento layered navigation extension remembers the most popular filters in different categories to show them to customers later. This helps people find the right item faster. If your store has a lot of products to offer and many various filters, this feature will help you a lot because no one wants to spend hours figuring out what filter to apply just to find something that is needed. Besides, the extension provides users with important values related to the products they selected.
Multiple filters simultaneously. This is what takes the search to the next level, compared to the standard Magento. The possibility to choose numerous values at once means you don't have to spend extra time going back again and again and you can apply as many filters as you want to. Shops that don't have such a great feature will lose a lot of clients for sure. Especially when it comes to large enterprises with huge catalogs.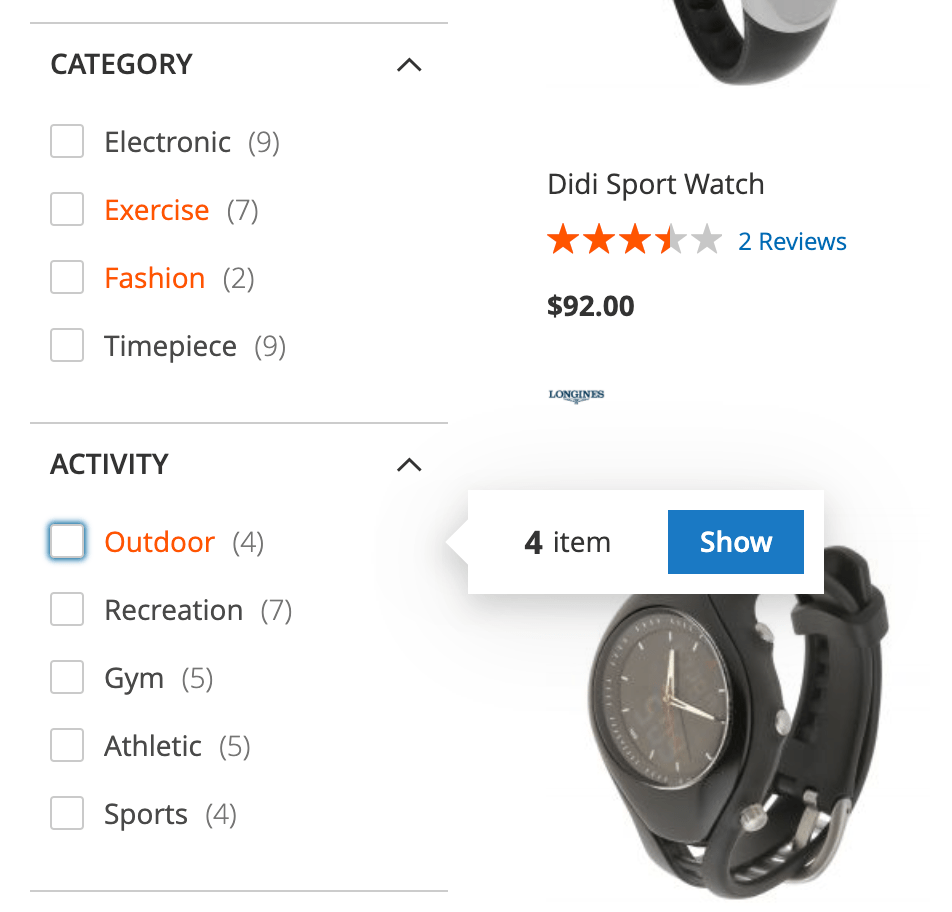 Images. Sometimes, the text is not enough, and certain categories may require more noticeable signs, such as icons, for example. This extension makes it way more convenient and faster to find the necessary filters by allowing you to attach images to them. Thus, some filters, like Material, for instance, can be found at ease among all others.
Sliders. This new option allows customers to filter items by measurable values (e.g. price)
Absolutely new options
Although we've already been talking about new filters, these ones deserve a separate block. Here is what you can do with this module:
New items. Some products are closely connected with time. This means that customers always need up-to-date information. That's why the possibility to filter by new arrivals is important.
On sale. Help people keep in touch with your best offers so that they can save their time and money.
Stock status. It can be pretty annoying to spend a lot of time searching for a product you need and see that it's out of stock when you finally find it. To avoid such situations, let customers apply the filter that will exclude such products from the search results.
Popularity. The number of competitors on the market is huge, and you can't become a specialist in every single thing to make sure you always make the right choice. So, it could take an eternity until you figure out which model is the best. But not with this filter! View only the most rated products and choose the best options, based on reviews of other people.
Catalog
Create brand pages for customers who know what they are searching for. Brands have a great influence on people, forcing them to buy certain products because of good advertising or awesome reputation. You can read various articles on this theme if you don't believe us. Use the extension to create separate pages for each brand or for all brands. These pages may contain additional information about brands that will be useful or interesting for customers. You can also set up pages' visibility for search engines and metadata for all pages.
Customers should know what your store offers to them. In order to show them this, the module gives you the possibility to tweak a widget with all featured brands. This is a way to quickly access the necessary page. To make this Slider Widget fit your site better, adjust it as you want: the size, button colors, and so on. It's even possible to enable an auto-play animation that can be stopped whenever the mouse hovers on it.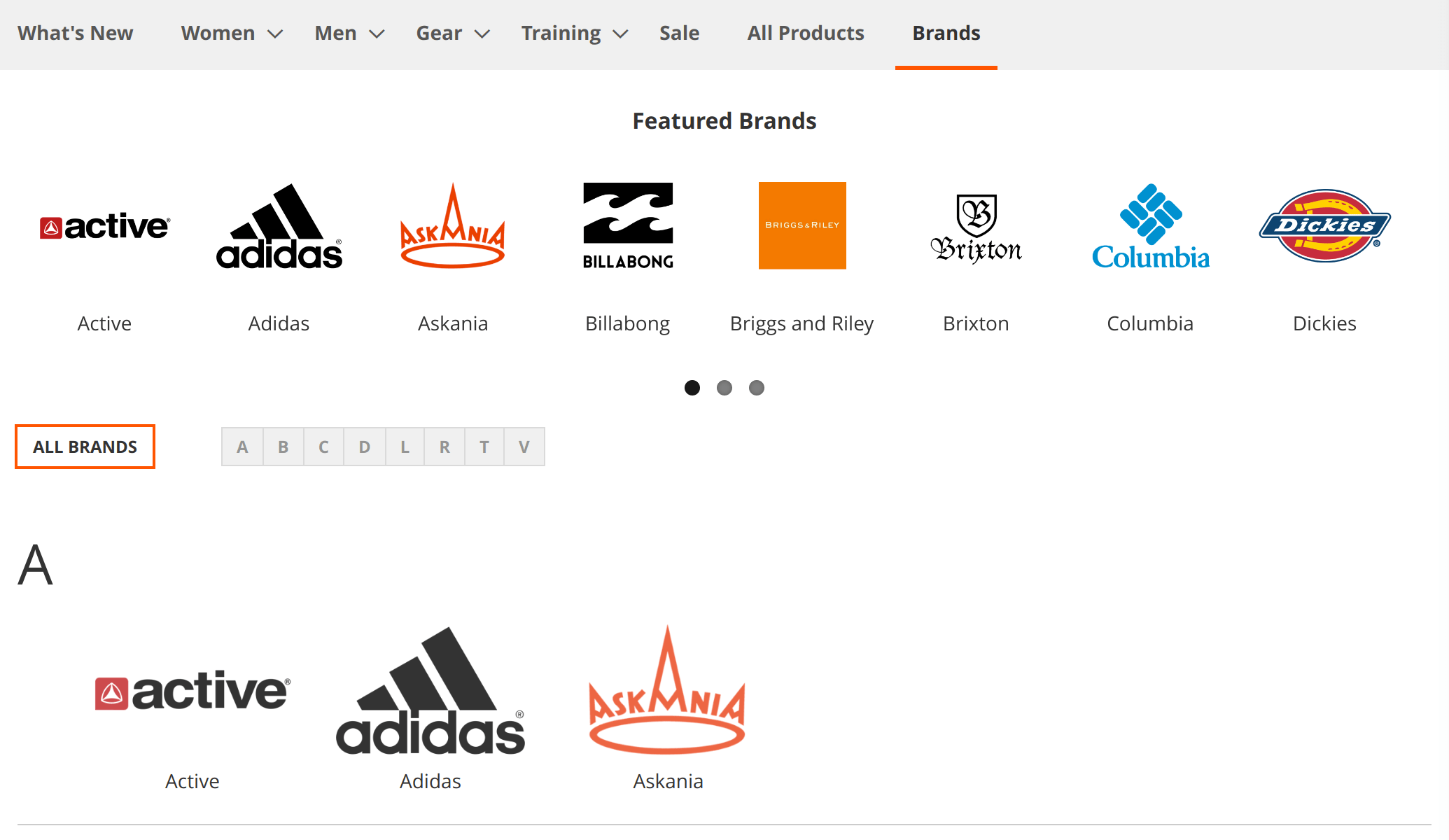 This feature was already mentioned before. To get rid of the necessity to load numerous pages upon browsing the site, this extension lets you add automatic loading for new products in categories and the search results. Or it can be done manually by clicking on the special button.
And the last feature that will make everything much more convenient is the page with the entire catalog. In the combination with layered navigation, this makes new customers quickly figure out what they want without excess actions. You don't limit new visitors by anything, letting them have everything in one place and choosing the best options from all available ones. This page also has its own configurable metadata.
Accurate SEO Preferences
It's crucial to make URLs look clean and neat because the number of unique URLs you will have with the advanced Layered Navigation for Magento 2 is quite big. The extension makes all these URLs look friendly for users, which makes them higher in the search results when people Google products.
In terms of the way separate pages will be displayed in search engines, the module provides you with special robots meta headers and canonical tags for layered navigation. These tags support various displaying options for preventing issues connected with duplicate content.
Conclusion
Think about the usability of your store. Is it good enough? If it's not, you have to try the Magento layered navigation extension because it gives you a bunch of new opportunities you will never have in the default Magento version. This will bring you much joy and profit because the extension is straightforward and pretty useful. With new filters, customers will never face complications in the product search, separate pages will make navigation simpler, and other functions will support your business in many other aspects. The price that you pay for this module is hilarious, compared to the benefits you obtain. Mirasvit offers a solid product that can help you a lot. If you want to know more or to view a demo, you can visit the official website and make yourself familiar with each and every nuance of this extension.