How to make mini products for children?
The fact that children always love to spend most of their free time playing with the toys. When it comes to the availability of toys, you can make toys for them at home by recycling various items. In this way you can provide them with more sources of fun.
Trying the ways on how to make miniature things adds creativity in the minds of children and they start thinking about and working on different creative ideas. Here are the best ways of making miniatures for beginners that you can try to make mini products for your children.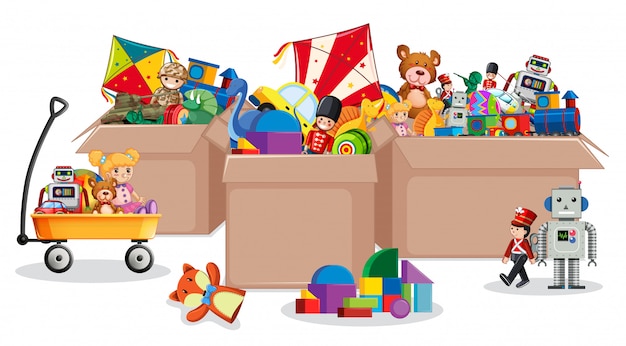 Animal circus train:
First thing that you can try while making mini products for children is the animal circus train. For making this train, you can take help from empty card boxes including tea boxes. You can make the train by joining these boxes in an orderly manner keeping in view the structure of train.
After making the train, you can place the animals of your children's choice in this train in order to make it full of fun and joy.
Cameras:
No doubt photography and taking selfies is a source of fun for children and most of them take it as a hobby. So, making mini cameras for your is an amazingly great idea.
The material you need to make cameras for your children is just empty egg cartons. You can mould these cartons into small cameras and let your children enjoy playing with them.
Drums made from tin cans:
Children always love to play with toys that make sound does not matter if it is noise. They are always keen to take part in playing activities that make noise. In order to provide your children with a sound making noise there can be no idea better than making drums for them.
In order to make drums for your children, you need to find out some used and empty tin cans. You can make the drums by joining these tin cans and let your children beat them all the day.
Toy robots:
Making toy robots for your children is also a worth considering idea. Children tend more towards playing with technological things like robots and etc.
Therefore, you can provide your children with such kind of toys in order to keep them engage in playing with these toys. Moreover, playing with such kinds of toys help them in shaping their minds in a creative way.
The materials you need to make toy robots include empty cartons or boxes of different sizes, colorful and beautiful sticker as well as differently colored pens. With the help of this material, you can successfully make robot toys looking at the structure of any of the robots you like.
Cardboard made planes:

Some of the children are more interested in things like space shuttles, aircrafts, rockets, space ships and etc. Taking into account their field of interest, you can help them enjoy by making toys like aero planes for them.
Using cardboard, you can shape an aero plane or other similar toys for your children depending upon their choice.
Jet packs:
Jet packs are equally famous and well like among children. So, you can consider this option as well. You can make a jet pack using card board and can cover it with silver coating to give it a real look. Paper fire fuel will add more charm and beauty to it.
Get mini products from little playz.
Conclusion:
If you are looking for the ways how to make miniature things with paper or other materials like card board for your children, this article will provide you with amazing ideas in this regard. The mini products making ideas given above are among the most practical and effective ones.
These ideas will give you proper understanding of how to start making miniatures. And by implementing them you can provide your children with a lot of sources of fun in the form of toys.