How To Look Slim In Lehenga Choli?
Lehenga is love for every Indian woman. This three-piece attire is famous all around the globe and is worn at special functions and weddings. Every girl wants to look perfect and slim in lehenga. It is not necessary to be on a diet for weeks to look slim, you just have to follow some tips and then see the magic. 
You have to just drape the outfit in such a way that you look slim. Let's check out some points on how to look slim the outfit. 
6 Easy tips to to look slim in lehenga choli
Choose a light Fabric
The light fabric provides you a shimmery and voluminous look and it helps you look slim. You can pick fabrics like:
Chiffon: It is a lightweight fabric that gives a transparent appearance. The fabric is made of cotton or silk. It is also made from some synthetic fibers like rayon, nylon, and polyester. In the early days, it was purely made of silk.
 As it is a very light and soft fabric it must be hand washed gently. It is a popular fabric from which sarees, lehengas, and scarfs are made. It is a flowing fabric that gives a flawless look to your skirt. Pair a crop top with chiffon lehenga and a nice dupatta to get a modern and slim look. 
Georgette: It is originally made from silk. It is a light and shiny fabric. You can find georgette in different colors and prints. Georgette is more opaque than chiffon. These light fabrics are usually used as the topmost layer of the skirt so that the skirt gets a nice shimmery look.
It is the most favorite and preferred fabric by designers due to its lustrous effect. You will look pretty in georgette lehenga with a cold shoulder or off-shoulder blouse and a beautiful dupatta.
Net: It is the most popular and rich fabric. It is a transparent fabric and the most beautiful embroidery work is done on this fabric. You have numerous varieties in net fabric.
The lehenga choli in this fabric is very stunning and pretty and the most beautiful lehengas are made from this fabric. As it is a lightweight fabric it will make you look slim and perfect. Be the most gorgeous girl in the party by wearing a net lehenga.
Linen: This fabric is made from the fiber of flax plants. The best characteristic of this fabric is that it is an absorbent one. It keeps you cool and dry in summers thus it's the best fabric for a humid and hot climate. So if you have to attend any function in hot weather then linen could be a great choice.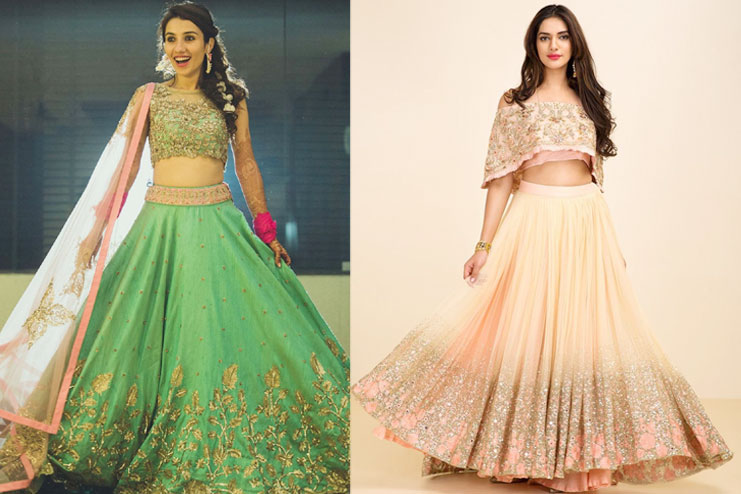 Pick Dark Colors
People think that color has no relation with a slim look, but they are wrong. The color definitely plays an important role when you want to look slim. Always choose a dark color because the dark color creates a slimmer illusion. Choose colors like navy blue, black, bottle green or wine red. 
These lehengas have gold and silver embellishments due to which less attention is gathered on the areas from which you are clumsy. You must have seen our Bollywood celebrities and models wearing dark colors like maroon and red at parties and events as they tend to look perfect and slim in the outfit. So it is really a good choice to look slim if you pick dark colors.
Prefer less embroidery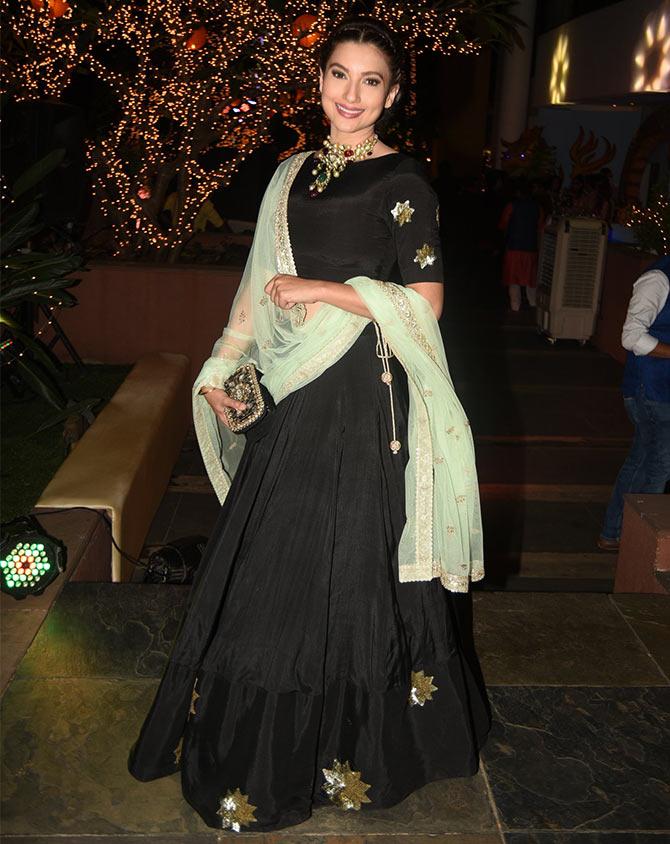 The modern outfits have less embroidery work and they are simple yet alluring. You will look clumsy and bulky if you choose a heavy lehenga with different types of embroidery work. If you don't like to wear plain lehenga then you can choose a printed one.
 Printed lehengas also look very amazing and are good for you if you want to look slim and gorgeous. There are many different patterns and designs of lehengas in the market nowadays. 
You can choose a light lehenga and match an embroidered blouse with it to get a rich look. The blouse must be proper and fitting so that you get a clean and defined look. 
Sleeves and Neck
The overall look of your blouse depends on the length of the sleeves and neckline. If you are willing to look slim then you should prefer three-fourth or full sleeves. Your neckline should be simple and elegant. 
The front neck can be round or a boat neck on the back you can go for different designs or hang some teasels for a better look. You can also choose a deep or backless blouse that will help you look slim and gorgeous. 
High necks are not a good choice if you are wishing to look slim. Avoid collars and closed neck go for a broad and simple one to look amazingly beautiful. 
You can go for different sleeves like ruffle sleeves, cold-shoulders, off shoulders and many more.
Draping the dupatta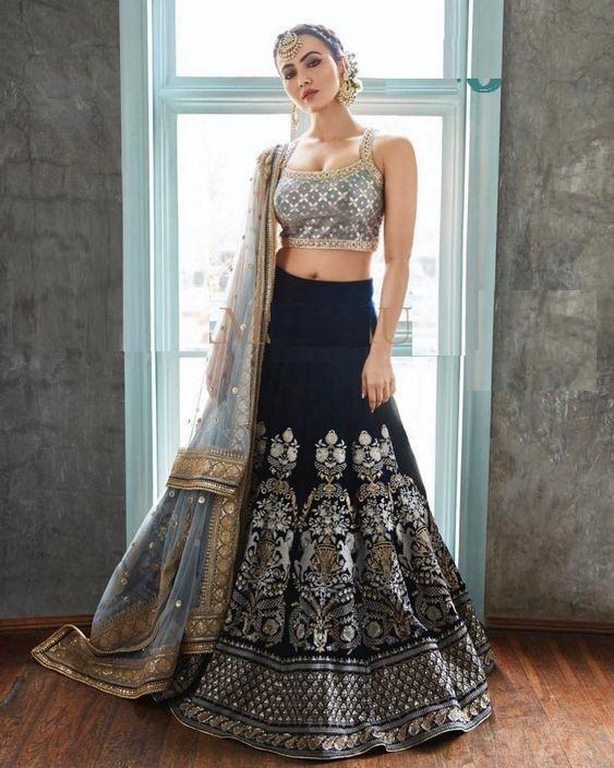 There are multiple styles in which you can drape your dupatta. The most common way is to keep it open the shoulder. It is a basic style that is to be preferred when you are in a hurry. For a slim look try a thin pleated dupatta. Pleat in a way that only the border is seen, tie the dupatta loosely on the waist and pin it up on the shoulder. Drape it in a saree style. 
If you are wearing something indo-western then you can take the open dupatta or else you can also ditch the dupatta. 
Some Accessories:
If you choose a fitted skirt like fishtail, A-line or trail then it will be a good choice for you. It will help you look slim and tall. Pair matching accessories with your outfit and be the perfect lady. 
Always wear heels when you are wearing lehenga as heels help you to showcase the bottom of the lehenga and its flare properly. You can add bangles, rings, anklets, and a necklace with your attire. Pick a short or long necklace and avoid chokers. This will help you look more stunning.if you want to buy lehenga choli then you can buy lehenga choli online.