Best Conference Venues And Meeting Spaces In Dubai 2020
Dubai – world's financial hub is famous for being a visionary city that has adopted all kinds of cultures and innovation. What was once known as the barren desert, has now grown into a top business and leisure destinations in the world, surpassing California, New York, and Paris.
Ease of doing business, unlimited business opportunities are just some of the advantages offered by the city of Dubai. It is a growing international events hub hosting thousands of global events each year, attracting millions of tourists. Dubai offers numerous, flexible event venues catering for all kinds of businesses and industries, making it an event hotspot.
Dubai's Top Conference and Event Venues
Cannot pick a venue for your next conference or shareholders meeting? Don't worry, we have got you covered. The following is our list of the most attractive and famous conference and event venues in Dubai that you can choose from.
Let's take a look at top conference venues and meeting spaces in Dubai.
1. Dubai World Trade Centre
Dubai World Trade Centre, also known as DWTC, is located on Sheikh Zayed Road in Dubai's corporate hub. This building is one of the oldest convention centers in Dubai that is also featured on the 100 AED note. It has more than 21 large exhibition halls, more than 40 expansive meeting rooms, and more than 120,000 square meters of free space.
Due to its prime location, the venue is booked throughout the year, so do consider contacting the best event companies in Dubai to book your venue at DWTC ahead of time.
2. The Atrium at Mohammed Bin Rashid Academic Medical Center
The Atrium at Mohammed Bin Rashid Academic Medical Center is one of the most famous venues for medical conferences and international lectures, as it is located at the heart of Dubai's medical district. Apart from the state-of-the-art infrastructure and auditorium, it also offers plenty of medical training space and meeting rooms.
3. Jumeirah Beach Conference and Exhibition Centre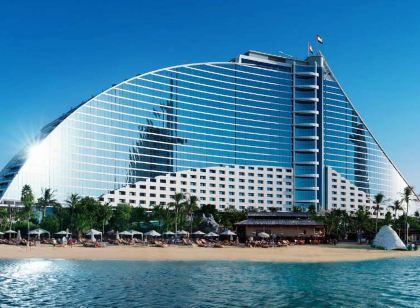 Jumeirah Beach Conference and Exhibition Centre is located at Jumeirah Beach Hotel, famous for its beautiful beach and being meters away from the infamous Burj Al Arab. It serves as a great venue for meetings and conferences, offering multiple spaces with unlimited views of the Gulf.
4. Madinat Jumeirah Conference and Events Centre
Madinat Jumeirah Conference and Events Centre at Jumeirah Road is one of the largest hotel conference event space in Dubai and is a perfect venue for large gatherings. Its Madinat Arena Conference Centre can cater for more than 4,500 people. It offers both indoor and outdoor extensive meeting spaces.
5. Le Meridien Dubai Hotel and Conference Centre
Le Meridien Dubai Hotel and Conference Centre is just minutes away from the Dubai International Airport, attracting thousands of tourists and travelers. Le Meridien is famous for its expansive ballroom, one of the largest in the city. It offers in-house catering, valet parking, and also airport shuttle service for the guests. It also has expansive grounds serving as an outdoor event venue.
6. The Address Hotel Dubai Marina
The Address Hotel is located at Dubai's prime and busiest location – Dubai Marina. The Address Hotel can host up to 1,000 guests in one of its largest ballrooms in Marina, Constellation Ballroom. It has 22 private meeting rooms across three floors and unlimited views via the rooftop terrace of the Marina and its sparkling waters.
7. Grand Hyatt Dubai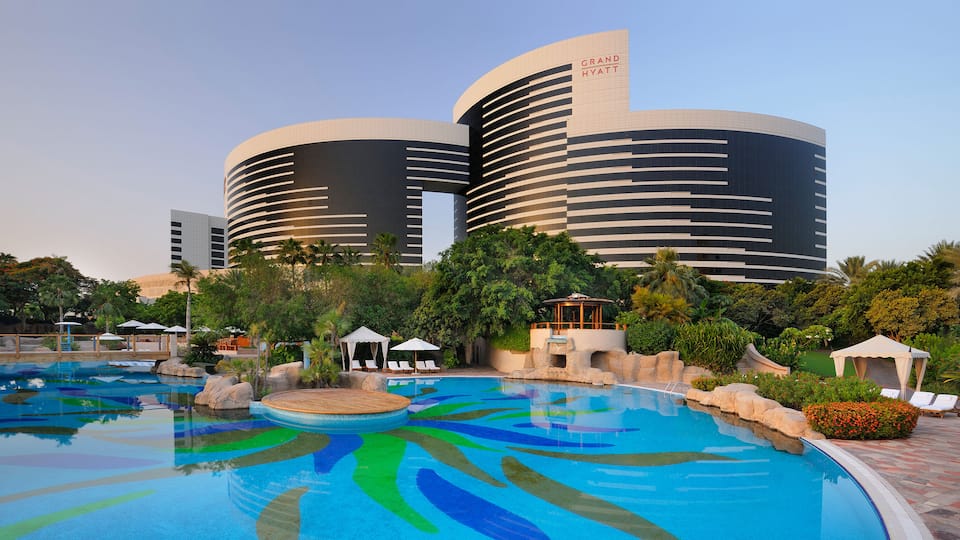 Grand Hyatt Hotel in Bur Dubai is one of the most popular venues for both indoor and outdoor events offering space for hosting all sizes of conferences and meetings. It is just 10 minutes away from Dubai International Airport, near Dubai Creek. The hotel has around 670 guest rooms and a vast range of services like cuisine, golf course, recreational activities, etc.
8. InterContinental Festival Arena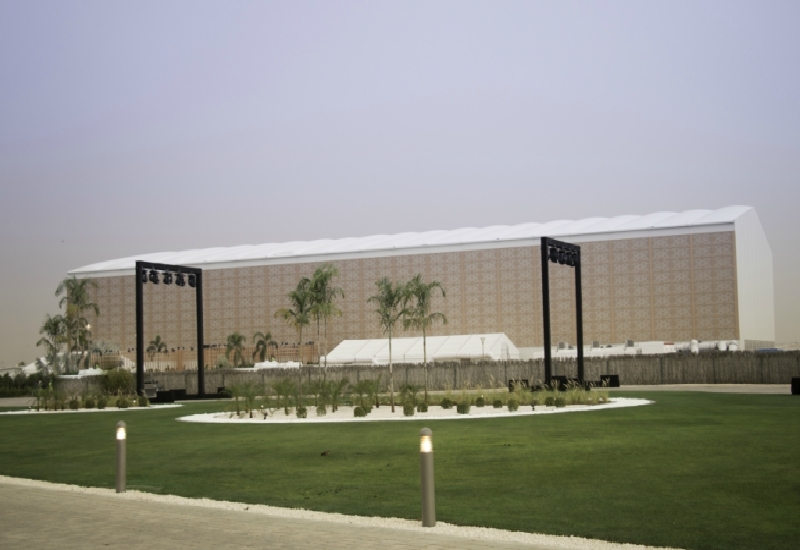 Festival Arena, an expansion of the InterContinental Dubai Festival City, is a spacious venue built entirely for the purpose of exhibitions, conferences, and concerts. It can host up to 5,000 people and is a popular choice for international conferences and large scale events.
Another big feature of this venue is that it provides ample parking space for attendees. As it is a hotspot for international and global events, make sure to approach professional event companies in Dubai ahead of your event for booking of the venue and planning.
9. Dukes The Palm, A Royal Hideaway Hotel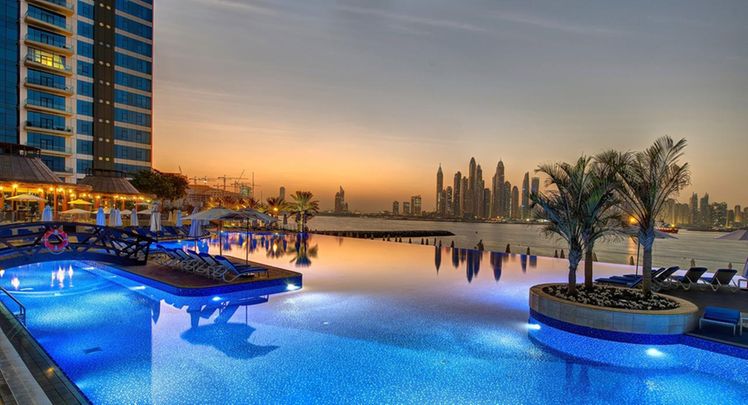 Dukes The Palm is a Royal Hideaway Hotel located on Palm Jumeirah. It offers a luxurious event venue for conferences with private rooms and halls. It has 7 spacious and world-class meeting rooms with a total of 1,500 square feet of meeting space. Dukes The Palm is an ideal location for small-to-medium size meetings and conferences with a touch of luxury and stunning views of the Palm, Marina, and the Gulf.
10. The Ritz-Carlton, Dubai International Financial Centre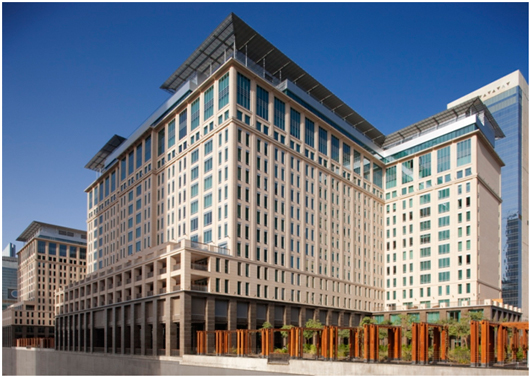 The Ritz-Carleton is the only hotel in Dubai directly connected to the Dubai International Financial Centre, which is the heart of Dubai's business sector and activities. Its most famous Samaya Ballroom is 1400 square meters located on the ground level and is accessible through a separate entrance. Apart from this, it also offers eight highly equipped and state-of-the-art meeting rooms. It is a popular event venue because of its ideal location near the World Trade Centre, Burj Khalifa, and Dubai Mall.
Host Conferences in Style!
These are some of the top conference venues and meeting spaces in Dubai. Dubai is famous for its grand international conferences and events because it attracts thousands of tourists and entrepreneurs every year. As the world's financial hub, the city of Dubai offers some of the best event and conference venues. So, instead of hosting stakeholder meetings and conferences in the office, make a statement by holding your next meeting at one of these venues in Dubai and become the hottest trends in the industry!