6 Reasons to Hire Residential Roofing Services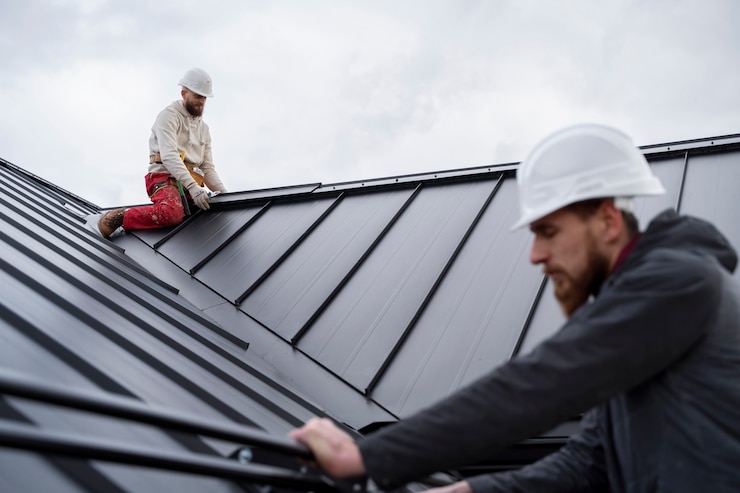 Residential roofing services can do a variety of things to improve your home without forcing you to break the bank. Find out why you should hire them here!
A new roof is one of the most significant home investments you can make, with the average US homeowner spending approximately $9,117 on a new roof. This cost is mainly based on your roof's condition and other factors like parts and labor.
Many people don't realize that having a reputable roofing contractor you trust can save you a lot of time and money in the long run. If you're on the fence about hiring residential roofing services, it's essential to learn how they can help you improve your home.
Keep reading this guide to learn six reasons to use residential roofing services.
1. Can Do the Job Safely
Roofing work comes with major risks, which increase dramatically when you don't have roofing experience.
Most residential roofs have steep slopes, making them more slippery and dangerous than you realize. In addition, you'll have to learn to use unfamiliar tools while trying to balance yourself on the roof.
Hiring a roofing contractor means you won't have to worry about safety risks. They're trained to know how to do the job safely and have the necessary safety equipment and roofing materials like:
Hard hats
Safety harnesses
Fall arrest gear
Equipment hoists
Heavy-duty ladders
Personal protective equipment
Roofing contractors also receive training to do inspections quickly and efficiently.
Overall, it's not worth risking your safety, so don't hesitate to hire professionals if you need roofing work done.
2. Extensive Experience and Knowledge
Remember, roofing contractors must have a combination of education and experience to do their jobs. Roofing contractors need to know how to complete a variety of tasks like:
New roof installation
Roof repairs
Efficiency upgrades
Restorations
How to use materials like tile and slate
How to handle asbestos
Prepping for solar panel installation
Roofing contractors can work with residential and commercial clients. Licensing and training requirements vary depending on the state you live in. In many cases, roofing contractors need a contractor's licensee to be able to perform work.
To get a contractor's license, you need a combination of experience and education and have to pass a test.
They're trained to spot subtle issues and know how to get them fixed. Having access to this expertise is a huge bonus for homeowners.
3. Saves You Money Long-Term
While the cost of roofing can be a lot to invest in upfront, using residential roofing contractors can actually save you money in the long run.
First, if you attempt DIY roof repairs, you'll likely spend money on the wrong roofing materials. You'll then have to return to the store to purchase more materials.
Even if you have the correct materials, it's all too easy to make mistakes and have to redo your work.
After a few DIY attempts, you'll ultimately need to call the pros to fix the issue and pay for that as well.
Roofing contractors can also find and fix small issues like minor leaks before they cause major damage. Once a roofing issue gets out of control, you'll typically need to replace the entire roof.
In addition, roofing professionals do regular inspections and maintenance that will keep your roof in good condition for many years.
4. Saves You Time
One of the most significant benefits of hiring roofing contractors that many people overlook is how much time it saves.
When you don't know much about roof repairs, figuring out the problem and its solution takes a lot of time. Once you figure out the problem, you'll have to find time to do the work.
Family issues, work, and weather delays can all put a roofing project on hold and cause more damage.
Overall, it can take weeks to months to complete roofing repairs on your own.
Professional roofers have to do efficient work and meet deadlines. Therefore, they can typically complete roofing repairs in a day. A new roof can sometimes take up to 3 to 5 days if there are other pressing issues with weather or materials.
However, in many cases, a residential roofer can install a new roof in one day, which frees up much more time for you.
5. Professional Work Has a Warranty
When you go it alone, you not only pay for your own materials but also have to depend on your work to last. Otherwise, you'll essentially be providing your own "warranty" since you'll have to keep paying to fix the issue.
Reputable roofing contractors provide a full warranty for their work. First, you'll get a manufacturer's warranty that guarantees the materials and products used will last.
Professional contractors also typically offer a workmanship warranty for all their work. If anything goes wrong with their repairs or installation, you just need to call and make an appointment to fix it.
Even more, many roofing companies offer discounts on maintenance and inspections and, in some cases, may extend your warranty.
Hiring professionals gives you more of a guarantee that you won't be paying for the same repair twice.
6. Can Help You With Energy Efficiency Upgrades
Residential roofers can help with the overall energy efficiency of your home.
Your roof is the main barrier between the outside weather and your home. Old roofs with damage can let in cold air and allow water damage to impact the structure of your home.
Not only that, but outdated roofs can greatly impact your monthly heating and cooling costs. Residential roofers will have experience working with energy-saving roofing materials like metal.
Energy-efficient roofs are usually made from reflective light-colored materials that reflect the sun's rays away from your home.
Also, an experienced roofer is essential if you want to install solar panels. Your roof needs to be strong enough to hold solar panels, and many people need repairs or upgrades before installation.
You can click here for Skyline Solar to get more information on how solar panels work.
Hire Residential Roofing Services for Your Home
Now that you know the reasons why you should hire residential roofing services, it's time to take the next steps.
Do thorough research to find a reputable local roofing company and have them come to do a free inspection. Remember, you aren't under any obligation, and you'll get a good idea of what repairs your roof needs.
To learn more helpful lifestyle tips and tricks, be sure to check out the rest of our blog articles today!